Press Brakes
Accurpress
190 Ton Accurpress Acell Bending cell, Motorman robot #416
60 Ton Accurpress model 7606 press brake, 2015 #298
60-Ton-Accurpress-7606-2014-295
Amada
110 Ton Amada RG-100 press brake, NC9EXII control, 1992 #351
242-Ton Amada HDS-2204 press brake #159
247-Ton Amada HFE-M2-2204, ~14′ overall, New in 2012 #553
35-Ton Amada RG-3512-LD press brake #218
35-Ton Amada RG-35S, NC9EXII control, 2000 #253
55-Ton Amada HDS-5020NT, 2011 #256
55-Ton Amada RG-50 press brake, NC9EXII, 2001 #250
60-Ton Amada EG-6013 Servo press brake, 2013 #255
88-Ton Amada HD-8025NT press brake, '10, New in '12 #557
88-Ton Amada HDS-8025NT, 5-Axis, '08 #552
Bystronic
248 Ton Bystronic Xact Smart 225-4100, Mfg: 2017 #481
Cincinnati
135 Ton Cincinnati Maxform 135 MX-10, Generation 5 upgrade 2018, #447
175 Ton x 12′ Cincinnati ProForm 175 PF-10, Mfg: 2018 #384
90 Ton Cincinnati Autoform 90AF-6 press brake, Updated control #353
90 Ton Cincinnati CB press brake, newer control #267
HACO
165-Ton HACO Press Master 165-12-10 press brake, 2019 #538
LVD-Strippit
187 Ton x 14′ Strippit LVD model PPEB 170/40 5-axis press brake #363
SafanDarley
220-Ton Safan E-Brake 200-4100, 2012 #261
375-Ton x 20′ Darley EHP-340-62/51 #207
Toyokoki
250-Ton Toyokoki HYB-2504 #186
Trumpf
40-Ton Trumpf TruBend 7036 Electric press brake, 2013 #450
94 Ton Trumpf Trubend 5085S press brake, 2007 #464
Used Hydraulic Press Brake Machines
CNC Press Brakes, Bending Cells, Bending and Forming Machines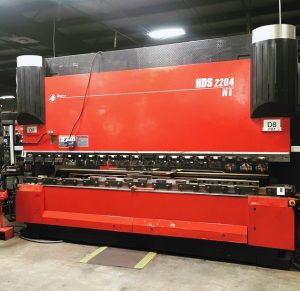 Press brakes are pressing tools designed for bending and forming, usually set up for sheet metal operations. Modern press brakes range in capability from a simple ram with a tool and die set; to CNC controlled Precision press brake models. The high-end precision models can be equipped with CNC controls, CNC backgauges with multiple axes, CNC crowning, hydraulic clamping and programmable sheet followers. Drive systems have also advanced with the older mechanical designs being replaced by hydraulic rams, then electric servo and hybrid hydraulic-servo systems.
Versatile Solution for Precision Sheet Metal Forming
Elite Machinery sells used hydraulic press brake machines from popular brands including Accurpress, Amada, Bystronic, Cincinnati and Trumpf. Although press brakes are the most popular and versatile solution for precision sheet metal forming, other options exist for more specialized bending and forming operations. Options such as folding machines like Ras and panel forming systems like Salvagnini and Prima Power. In recent years the quest for greater productivity have led to the development of automated bending cells utilizing automatic tool changers, robots and loading and unloading systems.
Contact Elite Machinery to Purchase Press Brakes
Regardless of your bending and forming needs, Elite Machinery Inc. can help. We have owned and sold the popular makes and models of precision CNC  press brakes, folding machines, panel formers and robotic bending systems. We will advise you on the right solution for your unique applications. We have over 30 years of experience in the industry and have contacts in finance, machinery service and installation and more to make your machinery buying process easier. If we do not have the machine you need in our inventory, we can connect you with someone who has the machine you need.
Give us a call at 262-878-9400 or contact us today!