CO2 Lasers
Amada
2000-watt Amada-Pulsar-LC1212A3 #181
2500-watt Amada Pulsar LC-2415A4 #281
3500-Watt Amada LCG-3015 laser, 2015 #243
4000-Watt Amada FO-3015NT laser #197
4000-watt Amada FO-3015NT laser, Newer turbo, 2008 #508
4000-watt Amada FO-4020NT laser, 2005 #193
4000-watt Amada FO-M2-3015 RI , Rotary Index and Flat laser system
4000-watt Amada FOM2-3015 RI #266
4000-watt Amada LC-3015F1 laser, 2010, #539
BLM-Group
3500-Watt BLM-Adige Lasertube LT8 tube laser #582
Bystronic
4400 Watt Bystronic BySprint Pro 3015 laser, 2013 #474
4400-watt Bystronic BySpeed 4020 with Bytrans #224
6000-watt Bystronic BySpeed Pro 3015 with ByTrans, 2012 #411
Cincinnati
4000-watt Cincinnati CL-440 laser, 2013 #429
Mazak
2000-Watt-Mazak-Spacegear-48-5-axis-laser #414
4000-watt Mazak Optiplex 3015 laser, low hours, 2011 #463
4000-Watt Mazak Spacegear 510MKII 5-Axis, Rotary #581
Mitsubishi
4000-watt Mitsubishi ML-3015LVPlus laser #513
4500-watt Mitsubishi ML-3015eX laser, 2014, #319
4500-Watt Mitsubishi ML-3015LVPlus-II 45CF-R Laser #529
4500-watt Mitsubishi ML-3015LVPlusII, Mfg 2009 #310
4500-Watt-Mitsubishi-ML-4020NX, Mfg. 2012 #311
6000-Watt Mitsubishi ML-3015eX laser, 2014 #460
6000-Watt Mitsubishi ML-3015NX 60XF Laser #527
6000-Watt Mitsubishi ML-3015NX laser, 2011, #383
Trumpf
4000-Watt Trumpf Trulaser 3030 with Liftmaster, #462
4000-watt Trumpf Trumatic-L3530 #212
5000-Watt Trumpf TruLaser 3030, new 2012 #409
5000-watt Trumpf Trulaser 3040 laser, 2012, #293
6000-watt Trumpf Trulaser 5030, New resonator 2016 #360
6000-watt Trumpf Trulaser 5040 #219
Trumpf LiftMaster Compact (LMC) Load/unload system, 2014 #331
Trumpf TruLaser Tube-7000 tube laser, 2011 #178
Used CO2 Laser Cutting Systems
CO2 Laser Cutting Machines and Automation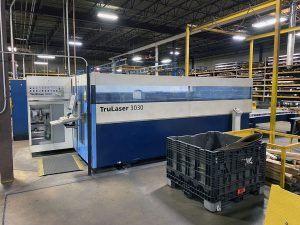 Industrial laser cutting is a proven solution for cutting steel, stainless steel and aluminum, along with other cutting applications. As laser cutting continues to evolve with each year, CO2 lasers are being replaced with fiber lasers in many applications. Fiber laser technology has brought faster maximum speeds, higher wall plug efficiencies' and the ability to process additional nonferrous metals such as brass and copper. However, CO2 lasers offer excellent cut quality and often at a lower entry price compared to fiber lasers. Choosing the best laser is based on considerations such as application and budget.
Find the Laser Cutting System That Fits Your Requirements
Are you looking to add a laser cutting system, but with so many choices you're not sure what machines you should be looking at? Or, you have lasers and are looking for the right used machine to increase capacity or upgrade your technology? Elite Machinery Inc specializes in used CNC laser cutting machines and we are here to help. We offer both used CO2 and used fiber lasers with a special emphasis on top brands such as Amada, ByStronic, Cincinnati, Mazak, Mitsubishi and Trumpf. Having bought and sold all the top brands of lasers over the years, we have extensive knowledge of each make and model to help you make decisions like whether a CO2 or fiber laser is a better choice to the make/model that best fits your requirements. Plus, we can guide you through the process from deciding on a machine to disconnection, installation and service.
Shopping for a used laser cutting system doesn't need to be a difficult process. Contact us today!