Used Amada Machinery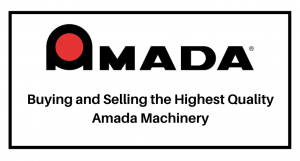 Elite Machinery buys and sells Amada Machinery. Whether you are looking to get rid of your current equipment or purchase something used, Elite Machinery is the place for you. With over 30 years of industry experience, we will help you determine the right choice for you.
Buying Amada Equipment
At Elite Machinery, we have wide selection of used Amada sheet metal fabrication machinery. Our inventory includes Laser Cutting Systems, Turret Punch Presses and CNC Press Brakes.
Turret Punch Press
Press Brake
Laser Cutting System
Selling Amada Equipment
At Elite Machinery we will buy your used industrial equipment. We offer:
Outright Purchases
Broker Sales
Trade Ins
When selling or trading-in your used Amada machine, Elite Machinery will help you accurately price the machine for today's machinery market and determine the sales solution that best fits your needs.
Elite Machinery Warranties
We offer a 30-day warranty on any machines in our inventory so you can be confident when purchasing equipment from Elite Machinery. View our Amada machinery inventory today or give us a call at 262-878-9400 and we can get you the right equipment.