Used Trumpf Equipment
Trumpf Press Brakes, Laser Cutters, and Punch Presses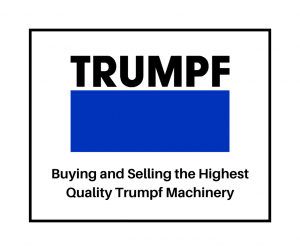 Elite Machinery has a large inventory of used Trumpf machinery. We buy and sell high quality used Trumpf equipment. Trumpf is a leading manufacturer of high quality, innovative, and precise machinery that is designed to make your industrial manufacturing processes more efficient. Our Trumpf machinery inventory includes CNC press brakes, turret punch presses and CO2 and fiber lasers.
Turret Punch Presses
Press Brakes
Fiber & CO2 Laser Cutters
A Trusted Partner for Used Trumpf Metalworking Machinery
When you buy from Elite Machinery you can be confident in your used metalworking machinery purchase. We offer a 30-day warranty with any machine from our inventory. If you a buyer looking for a specific machine – search our inventory or give us a call. If we don't have it on hand, we can look for the machine for you. Our extensive network of partners from machine sources to finance and shipping, makes us a reliable partner in this next purchase for you!
Elite Machinery Has the Equipment You Need
Whether you need equipment for blanking, punching holes, bending, and forming, or cutting, Elite Machinery has the Trumpf equipment you need.
View our selection of Trumpf machinery or give us a call today at 262-878-9400 and we will help you find the machine that you need.